E-mail:
dew@obscure.org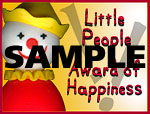 What is this award for?



The "Little People Award of Happiness" is given in recognition of sites that spread happiness on the web. Its dispersion is purely subjective, meaning you are at the whim of my eclectic tastes and very strict sense of aesthetics. ;)



What qualifications do you have?



I am looking for sites with a wonderful sense of aesthetics (color, layout & design, original graphics displayed in a quality manner) which draw me in and make me smile.

No pornography (no matter how happy it makes you) will be considered.

No commercial conglomerate sites, please. Small businesses or self-supporting artists are welcome to submit. Just keep in mind the purpose of this award. If you are selling hardware, I doubt it will make me happy. (No offense against hardware.)

If your site crashes my computer because of Java scripts, it probably won't leave me feeling very giddy.

Please spellcheck. :)

Midi music is not pleasing to the ears.



When will I know if I've won?



I am very busy these days chasing dreams and designing futures, but will do my best to review submissions as soon as I can. Have patience with me!

Please do not send in multiple requests. It will not make me fly any faster.

Only sites that have won the award will be contacted. If you don't win, don't fret! There are multitudes of awards out there on the big, wide web. Everyone can win an award, but not everyone will win this one.



How do I apply?



Send e-mail with the subject "Award Submission" to dew@obscure.org. Please include the following information:

Your name.
Your e-mail address.
Your site's name.
Your site's URL.
Your favorite F-P toy (if you have one).
...and...
How you found this site.

Good luck!