---
This page was last updated on May 3rd, 2002.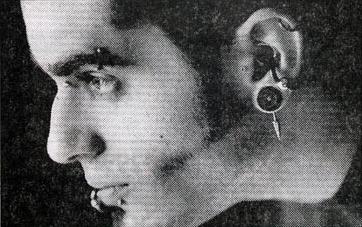 bloody fools have entered my domicile

Hello and welcome to my domain of INSANITY. My name is Luis, but most call me Weezie. This is where I will tell you more about myself and the crazy things I do. Oh and if you have a problem with my page, you can shove it.
I am your standard 24 year old elektro-industrial rivet head homosexual freak kid I suppose ;P. Black clad, metal in places it doesn't belong, biologist, piercer, photographer, and writer. I am currently taking a break from school, seeing as how The George Washington University cut my financial aid drastically. So I am saving my pennies, and hope to go back some day.
I grew up in Miami, FL, and hated every second of it. When I was 17, I moved to Washington, DC, and loved every second of it. In November 1998, I moved to Philadelphia, and I've gotten used to it here. I still miss DC, though.
You can also check out my other little page on iam.bmezine.com. There's more up to date pics and stuff there, and a more up to date diary is kept there.
Recent Thoughts:May 3rd, 2002
So, I now have a job! I've been working at No Ka Oi for about 2 months now, and it's pretty cool. It's a beautiful brand spanking new shop, and it's pretty laid back. Business is starting to pick up, so hopefully summer will be good. Check out the website.
Things with Mikey are pretty good, I'm gonna add some more pics of us in a little bit, so check them out.
In the everyday life that I lead, photography is one of my releases (science and piercing do get to me after a while). I find it relaxing to express my emotions and ideas visually. Click on My Photgraphy to view a portion of my portfolio.



My Music
I listen to a lot of different types of music, but my favorite is elektro/industrial. Industrial music helps to fuel the angsty inner child i have :>. I also do still listen to the goth stuff I grew up on.

: Recommended Listening (updated 5/3/02):
Morrissey - Viva Hate
Glasseater - 7 Years Bad Luck
My Body Modifications
One of the things that I am majorly into is body modification. I feel that my modifying your body (piercing, tattoos, branding, scarification, implantation), you can improve your personal asthetics. I do these things to please myself, and no one else. All the piercings brandings, scarification, implants, and tattoos I have I find asthetically pleasing. I do not get them to freak people out or to fit into anything. My body modifications also play a spiritual role in my life. I will expand on this is a new section about my belief systems. I will be adding it as soon as I am done spurting out the html.

I am now working at NoKaOi Tiki Tattoo and Piercing in Philadelphia. It's a brand new shop, with an all female APT member staff on the first floor, full piercing studio on the second floor, and a relaxed and warm environment. I myself am an APP member (since 1999), and I pride myself with providing the best in piercing services. and