PeopleSoft: Page Designer Tool
In 2004, PeopleSoft was planning the next generation of PeopleSoft tools. These tools were to be used internally and by enterprise software consultants to create and customize PeopleSoft applications. I was responsible for the interaction design of the Page Designer tool, an Eclipse-based visual design environment for the PeopleSoft application's browser-based user interface.
As part of kicking off this effort, I familiarized myself with the Eclipse platform and its capabilities, as well as examining various competitive products. I also participated in user interviews to understand usage and shortcomings of the current product.
On this project, developers played a strong role in identifying options as well as constraints. I needed to work closely with both developers and product managers to negotiate approaches that would support business requirements and provide a good user experience.
I created mockups in Visio, and prepared a detailed storyboard illustrating creation of a page in the new development environment. This deliverable served as compelling documentation to convince sceptics of the benefits of the recommended approach.
Deliverables
The following is a sample Visio wireframe from this project. The wireframes show a combination of tree view and a WYSIWYG representation of the page layout being constructed.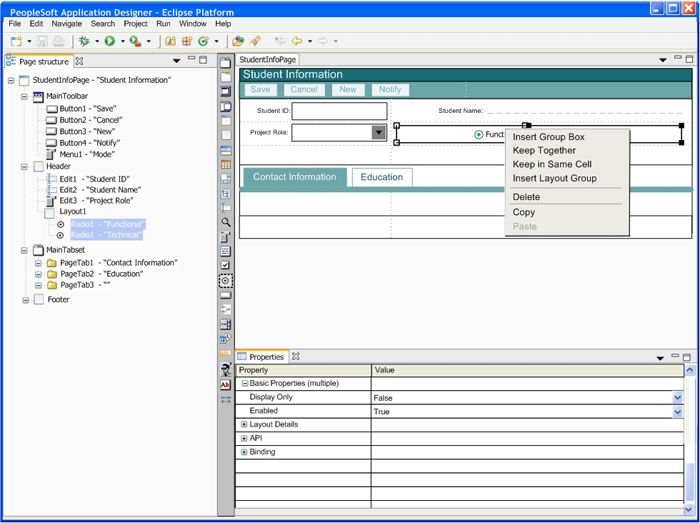 While the lead developer on the project proposed an approach using the tree view only, I felt that having a visual representation of the page layout was essential for task performance, as well as to meet user expectations. This specific example illustrates the context menu associated with multiple selected components. This workflow uses affordances of both the tree view, which highlights the structural relationship between page components, and the layout view, which previews the appearance of the page.
The full storyboard document can be found here: Page Designer Storyboard [.ppt format]
The following presentation summarizing the project was given to the Oracle user experience team after the PeopleSoft acquisition: Project Summary Presentation [.ppt format]