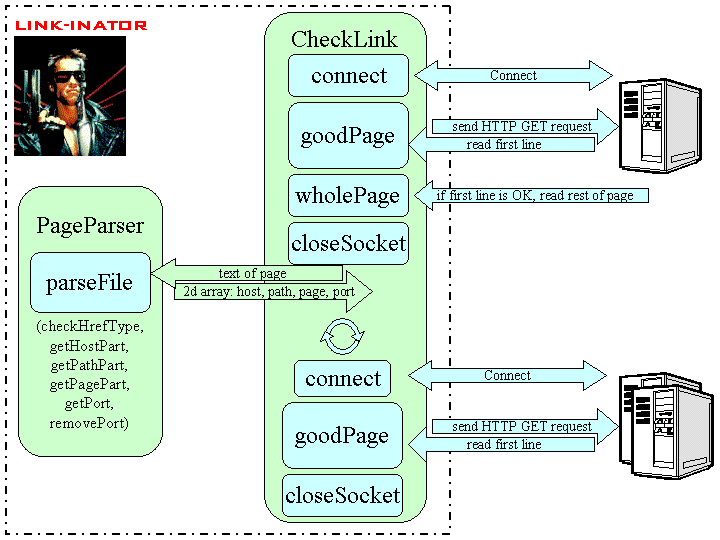 The software consists of two modules, CheckLink and PageParser, each written in Java.
The CheckLink module:
determines whether a connection can be established with the page's host
determines whether the specific link is valid
fetches the page specified
passes page to parsing module
checks the status of subsequent links when they are returned from the PageParser
Returns a report to the user cataloging valid and invalid links and the error messages returned, flags bad links for manual checking
It uses the following methods:
connect: Creates a socket connection to a specified host and port number (default = 80), establishes input and output streams, and returns a Socket object.
goodPage: Sends an HTTP GET message to the socket, then reads the first line of data from the socket and checks the HTTP status code. Returns a boolean value that is true for good status (status code = 200) or false otherwise.
wholePage: Reads the remainder of the HTML page and returns a String containing the entire text.
closeSocket: Closes the previously connected socket and its input and output streams.
The PageParser module:
parses HTML for href statements
creates a data structure consisting of a two-dimensional string array with hostname, path, pagename, port number, and the entire URL
returns this data structure to the CheckLink module
It uses the following methods:
checkHrefType: eliminates extraneous hrefs such as mailto links
getHostPart: extracts the hostname from the href
getPathPart: extracts the path to the page from the href
getPagePart: extracts the filename from the href
getPort: extracts the port number (if any) from the hostname.
removePort: removes the port number from the hostname