Movies
---
Some of my all-time favorite movies include...
---
Clerks and Mallrats. If you haven't seen them. You must. Snootchie Bootchies

A Room With a View. Not the Hitchcock film, the romantic foreign film. I adore it. But I suppose it could be considered a chic flick.

The Crow. Ok It wasn't as good as the graphic novel. But it still blew my mind.

Sixteen Candles, Pretty in Pink, The Breakfast Club. All the Molly Ringwald John Hughs films. *sigh* I grew up on these.

St. Elmos Fire, Some Kind of Wonderful. I love them.

Dirty Dancing. Partially because it was romantic and silly and sweet. And partially because it was the first film my parents fought over whether I was old enough to watch it. Thankfully I won.

Twin Peaks. Both the movie and the series. I was fascinated by it. I did NOT however buy Laura Palmer's Diary. I wasn't that fascinated by it. Sheesh!

Romeo and Juliet. The new one with Leonardo DiCaprio and Claire Danes. I thought it was fabulous. I don't care what the dritics said about it. And yes I thought it was fabulous for other reasons than Leonardo and Claire dare gorgeous. I thought they did a wonderful job with the symbolism. And I'm glad they kept it to old English.

Henry V. With Kenneth Brannagh. It was fabulous.

Much Ado About Nothing. Also with Kenneth Brannagh, and Denzel Washington and Emma Thompson and others.

Dead Again. With Emma Thompson and Kenneth Brannagh. I loved that movie.
---
Television
'kay, well I'm not a huge TV fan, but there are a few TV shows I like.
The X-files Okay yeah, who doesn't like X-files. Well I didn't plan on liking it. I read the description of the show, rolled my eyes, and said "how cheesy can you get" and then I actually watched it. Mostly by accident. It happened to be on while I was cooking dinner. And I really enjoyed it. It intrigued me, and after that i was hooked.

Friends Okay I admit it. I like the show. It amuses me on a base level. The humor, although hardly elevated, comes on a near constant basis. What can I say, it's kind of like junk food for the mind.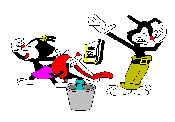 The Animaniacs This show amuses me to no end. From the Warners (my favorite being Wakko) to Pinky and the Brain, To Mindy (ok I luv you buh bye). There manicness tends to restore my sanity. This page is mostly sound bites, but has a few great links as well. Hellllllooo Nurse!