Creations


The random twisted visions of Bob Rosenberg

Sometimes an idea gets into my head and it just gestates there, expanding and spreading through my brain, contaminating whatever it finds, until I just have to get it out. Finally I have to rip it, kicking and screaming from my skull, and twist it into some form which will hopefully contain it.

This is how I stay sane.
Beastly-Things
Why, anybody can have a brain. That's a very mediocre commodity. Every pusillanimous creature that crawls on the Earth or slinks through slimy seas has a brain.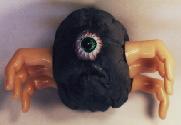 Brain
Rubber brain, finger hooks, and rubber eye. © 1992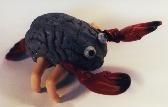 Lobster Brain
Rubber brain, toy lobster, finger hooks, plastic eyes, and glow nail polish. © 1993

Scorpion Brain
Rubber brain and toy scorpion with plastic eye. © 1996
Hearts will never be practical until they are made unbreakable.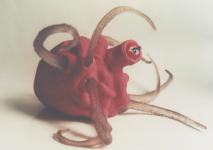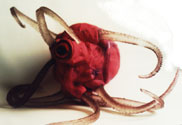 Heartbeast
Rubber heart and squid with painted plastic eye. © 1996
The spiderman is having you for dinner tonight

Spider
Toothpicks, plastic, epoxy, and paint. © 1997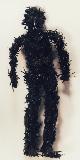 Bug-man
Plastic bugs, glue, paint. © 1991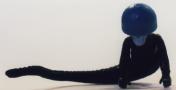 Naga
Rubber snake, toy person, plastic skull, plastic container, glue. © 1991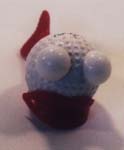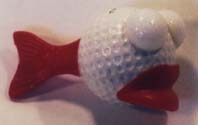 Golf-fish lips
Golfball, toy fish tail, plastic lips, toy eyeballs. © 1991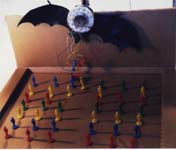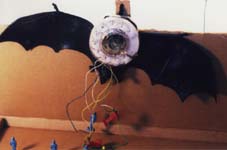 Bat-phone
a diorama
Rubber bat, telephone dial, cardboard, plastic businessmen. © 1992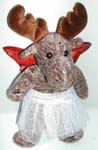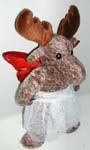 Fairy Godmoose
Stuffed toy moose, mesh fabric, fake butterfly, toothpick, star confetti. © 2002
We are all born the same fashion; naked, screaming, covered in blood. If luck is with you and things are done right, that kind of thing doesn't have to stop there...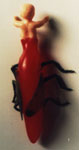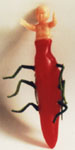 Babybug
Plastic baby, rubber wasp and chilipepper parts. © 1996


Winged Baby
Plastic babies, toothpicks, epoxy, plastic, and silver and black paint. © 1997
Humans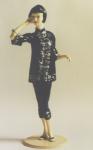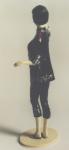 Girl
Painted plastic figure and spiked metal ring. © 1996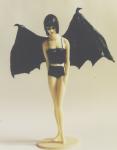 Succubus
Painted plastic figure with rubber bat wings. © 1996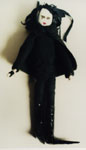 Goth Doll
Black and white cotton fabric with ink decorations and painted PVC tape on cardboard. © 1996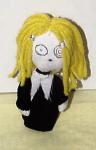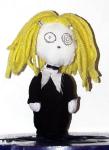 Lenore
Black and white cotton fabric, yarn and ink decorations. © 1999


The Hanged Man
Thread, stockings, metal wire, toothpicks, plastic, bin-liner, paint. © 1997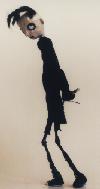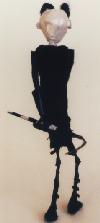 Johnny the Homicidal Maniac
PVC tape, razor blade, toothpicks, cotton fabric, wool yarn, plastic, nail polish. © 1997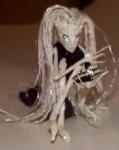 The Emperor
Toothpicks, cotton fabric, silver cord, plastic, nail polish. © 1999