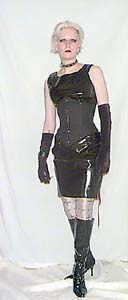 Welcome to my Lair of Iniquity!

This page will be under constant construction for awhile, so do be a dear and check back here every so often to see what I've been up to. I'll be posting new things periodically, as I've made a list of things I want to put up on these pages for your enjoyment.

I hang out on the IRC on a regular basis. I can usually be found on EFNET in #agf using one of the following nicknames: angldst, origdust, StNsomnia, SINsomnia, or Dante_. If you're interested in IRC, Pirch is a good IRC client to use.

I am no longer working nights. I was a dotcom casualty from my gig at Cidera in January of 2001. I picked up a gig over at G street fabrics in Falls Church in September of 2002, and worked there until september of 2003. I finally got married in October of 2003, wedding website is here. I am blessed with my life, that is now in such a way that I can work from home, so I can pursue Original Sin full time. Rar!. In addition to doing O'sin's usual gothic & industrial & historical things, I've branched out into making figure skating dresses, which has proved to work out quite well for me.

I'm very active at the Maryland Renaissance Festival. This event runs from the end of August to the third weekend in October. I can be found there nearly every day of the run, carousing and having a ball with many good friends. If you happen to be by, come to the White Hart tavern to find me. In conjunction with this, I lurk and occasionally post on the Usenet Newsgroup alt.fairs.renaissance.


I play Ice Hockey out at the Fairfax Ice Rink, in the novice division of their house league. My coach is awesom, and I really enjoy the sense of accomplishment and the stress relief that playing provides for me. Other things I like to do in my spare time:

Clubbing: Mostly Thursdays over at Alchemy, which takes place every thursday night at Nation nightclub in SE Washington DC. If you're ever in town on a thursday night, I highly recommend this event. :)
Quilting. I've learned to quilt since I last updated this page, and I've made two so far, and am working on a baby quilt for a friend. I love quilting, it's very relaxing (I prefer to hand quilt), and I can do it in front of the telly.
Reading, I prefer historical fiction, horror, and dark fantasy, and also nonfiction on whatever subject attracts me, which is very eclectic.
I have some goth-y things that I do when I feel like wasting time. I write bad goth poetry.
My online presence has grown someone in recent years. I'm not on Usenet nearly as much as I used to be, but I'm still on IRC (see above) and I'm quite active on Livejournal with the username angldst. My journal entries are mainly friends only, so if you are an LJ user and would like to be on my friends list, drop me an email and I'll check you out. :) In addition to my own journal, I post frequently to the LJ communities AGF and gothfash, as well as a couple of sewing forums. In addition to Livejournal, I'm also a member of several mailing lists, including corpgoth, counter_culture (for small business owners), convergence related stuff, and an historical costuming list.

In August of 2001, I had the joy of attending my first Convergence (C7, which took place in NYC). I've gone each year since, and I'm looking forward to going to C10, which will be in Chicago in early May of 2004. I've submitted Original Sin for consideration for inclusion in the fashion show, and I'm expecting to be part of the vendors room, as well. I've had a blast at previous convergences, and hopefully this one will be better than ever!

I like to read the required goth texts (among other things-Unusual sex practises, anyone?), and if it so happens that I read something particularly good, I'll make a point of posting my opinions of the aforementioned here. I do a lot of sewing, and I now make a variety of gothic/fetish and historical/ fantasy garb for private sale and online auction. You can see pictures of some of my creations, and a list of currently available items at Originalsindesign.com.
Angst, anyone?
this page was brought to you by your friendly neighbourhood borderliner.
You can reach me by mail at:
angldst@obscure.org
---
The Obscure Organization provides this account.
shiny things!
shiny things in stock and ready to ship!
current source of bankruptcy
book reviews

This page was last updated on 12th November, 2003

My Goth Code (98): zoPebaeiaZabchrarGIGhfezZCQSqafnuvbabcbcdcecHiyeaGcfmijeW qicggOJcagchbAiggbjeSNcqranjHaaaGdciusv