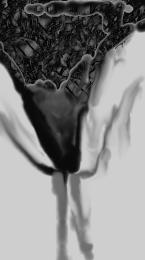 (a larger version (442 X 796 JPEG, 38 KB) of this image is available.)
This 1992 sketch was inspired by a woman dancing on stage at the Roxy. She was practically masturbating on stage, and this image burned itself into my brain until I could get home and record it.

Copyright © 1995,2002 by Richard Bullington-McGuire.
Please view the redistribution requirements.
Please feel free to comment.
This page is sponsored by The Obscure Organization.